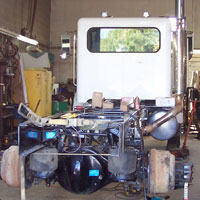 TransCan Service Centre Ltd has been servicing the Blind River and North Shore area since 1990. We are a full service automotive and heavy truck repair centre. At TransCan Service Centre Ltd we use state-of-the-art diagnostic equipment and information resources to ensure fast, correct and cost effective diagnosis and repairs. Whether you own a small car or highway tractor trailer, we are able to look after all your maintenance and repair services.
Tire Sales, Repair and Installation

TransCan Service Centre Ltd is your number one stop for tire sales, repair and maintenance. We carry a large inventory of passenger, light truck, trailer and transport truck tires. For all your seasonal changes and inspections you can count on us year in and year out!
Towing Services
TransCan Service Centre Ltd is a primary provider of towing and recovery services for light, medium and heavy trucks.Our fleet includes light duty carriers, light, medium and heavy wreckers and a 10 ton float. We are also equiped to move Recreational Vehicles (RV's) or highway trailers when required.