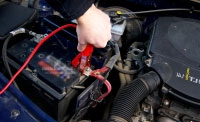 TransCan Service Centre Ltd
provides heavy duty road side assistance primarily between Sudbury and Sault Ste Marie Ontario along the Highway 17 (Trans-Canada Highway) corridor. Our coverage area also includes Highway 129 North of Thessalon and Highway 108 north and south of Elliot Lake. If required we will dispatch a licensed mechanic to assess your situation in order to get you mobile as soon as possible.
Towing Services


TransCan Service Centre Ltd is a primary provider of towing and recovery services for light, medium and heavy trucks in the North Shore region. From breakdowns to accident recovery we will provide fast, efficient, cost effective towing for all your needs. Our equipment roster includs light duty carriers, light, medium and heavy wreakers and a 10 ton float. We can also equiped to move Recreational Vehicles (RV's) on highway trailers when required.
Our Customers


In addition to our automotive customers, we are service providers for many national fleets, leasing companies, the Ontario Provincial Police and local ambulance and utility company services. What ever your emergency may be, you can count on TransCan Service Centre Ltd to provide fast reliable service by highly qualified mechanics.